Heritage Transport Festival
Fri, 27 Jul 2018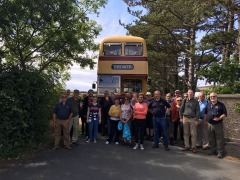 What a privilege to be part of the 2018 Heritage Transport Festival ~ Today's "Vintage Bus Tour of Closed Lines" marked the 50th anniversary of the last trains from Peel. The vintage bus stopped firstly at Peel for a tour of the former station site and the delightful Manx Transport Heritage Museum, before joining us at Knockaloe for a guided tour of the camp by Knockaloe Charity Co-ordinator Alison Jones with a special talk on Caledonia, the Camp's own Railway, by Mike Buttell of the Heritage Railways Volunteers Group.
The beautiful vintage bus then went onto closed stations at Foxdale, St. Johns, Crosby and Union Mills, stopping to explore the sites in the company of guides from the Heritage Railways Volunteers Group.
Lovely to meet you all - well done to the organisers and all of those involved for a fabulous celebration of our Island's incredible transport heritage.