Talk and Tour to launch a special new 2023 season long exhibition at the Centre for WW1 Internment at Knockaloe
5 April 2023
We are honoured to be exhibiting an amazing collection of paintings by Knockaloe internee George Kenner, originally kindly donated by his daughter, Christa Bedford, to the Surrey Heath Museum which has kindly loaned them to the Charity for our 2023 season.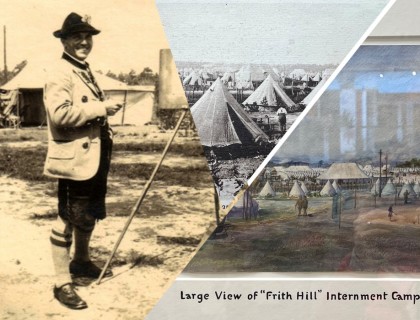 Like so many internees living in the south of Britain, following the sinking of the Lusitania George Kenner arrived in Frith Hill to suddenly find himself learning to cope with life in a tented camp behind barbed wire, and his words and paintings provide an incredibly evocative record of that experience of so many internees before they were eventually moved to more permanent camps such as Alexandra Palace and Knockaloe.
In order to launch the exhibition, we are delighted to welcome Gillian Riding, Senior Heritage Officer from Surrey Heath Museum who will be providing a talk about George's time at Frith Hill.
After a break for refreshments and to view the paintings on display in our model room, Knockaloe Charity Trustee, Alison Jones, will be providing a specially tailored tour onto the site of the Camp itself exploring how Frith Hill fitted in with the internment experience of so many Knockaloe internees, and focussing on Kenner's onward internment at Knockaloe via Alexandra palace, and what happened to him post war.
'My internment' Talk and Tour will take place on 5th April 2023 and approximate timings are as follows:
9.30am Registration and coffee/tea
9.45am Introduction by the Charity followed by Talk by Gillian Riding in our lovely Community Room
10.45am break for mid-morning refreshments and to view the paintings on display within our Model Room
11.30am specifically tailored tour onto the site of Knockaloe camp focussing on George kenner and the Knockaloe internees' experience of Frith Hill camp throughout WW1
(Tour estimated at around 1 ½ hours – please bring suitable clothing and footwear)
1pm approximate finish
Spaces are limited.
Tickets are £8 pp including refreshments.
Please contact Rachael wood for tickets via email : e-mail: rwood@knockaloe.im
Alternatively, Telephone Office (Monday – Friday 9.00 – 13.00) : +44 (0) 1624 648477
The paintings of George Kenner George Kenner on display earlier this year at Surrey Heath Museum along with the Charity's artefacts.