Your Visit
The Centre for WW1 Internment Opening times 2023
The Centre itself is currently closed for the winter period during which time our work continues. Please email info@knockaloe.im regarding arranging a group or descendant visit for next year, contacting us well in advance ensures we have relevant staff available and can carry out any research in advance to allow you to make the most of your visit.
For 2023 The Centre for WW1 Internment opens to the general public from late May until late September as detailed below: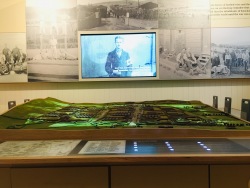 Public opening times:
2023 opening: Saturday 1 April 2023 - Saturday 30 September 2023 (Wednesdays to Saturday) .
2024 anticipated opening: First Saturday in April until the last Saturday in September
Wednesday to Saturday
10am - 5pm
For Internee and Guard descendants, please see below*
Please note we will always be CLOSED for the following Island events:
TT Senior Race Day - Friday 9th June 2023
Isle of Man Parish Walk - Saturday 24th June 2023
Isle of Man Royal Agricultural Show weekend - Friday 11th August & Saturday 12th August 2023
Privately booked groups:
2023: 1st April 2023 - 30th September 2023
Please note that entrance fees apply for all commercially guided tours, as well as for pre-booked private visits to cover the Charity's costs of opening and ongoing development - see Fees section below
*Descendants of Internees, Guards and others who were part of this story:
The Charity would love to hear stories from descendants of Knockaloe internees or guards and we love to welcome descendants personally during the times when the exhibition is open. Please contact us before your visit on info@knockaloe.im so we can ensure a researcher is available and so you make the most of your visit. The Exhibition is open as detailed above to view annually between April and September . We shall always try to accommodate your travel plans during this period, however please do contact us before booking any trips to the Island to ensure the necessary staff are on hand. The Exhibition is not open over the winter months when we focus on research and collation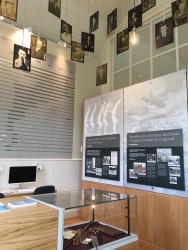 If you are a Knockaloe descendant please contact the research team before visiting on info@knockaloe.im to ensure that advance research can be carried out prior to a visit and that Trustee and lead researcher, Alison Jones, can be there personally to meet you during your visit and find out what is available about your family story.
Although the Centre itself is closed during the winter period, our research and collation of internee stories continues all year round, please E-mail info@knockaloe.im for further information regarding a visit or to share your family story.
Entry Fees:
Individuals : Entry to the Centre is FREE however we very much welcome DONATIONS which allow us to cover our ongoing running costs of the Centre, and will allow us to continue to develop it.
Groups : For commercially organised groups where visitors are paying an overall fee for their trip and/or guide, there is a charge of £6.00 per person (or £7.00pp to include a tea/coffee), payable by the tour operator/coach driver/guide before or upon arrival.
For Groups who would like a full guided tour of the Centre, graveyard and site of the former camp (we suggest you allow a minimum of 2 hours for your visit), there is a charge of £10.00 per person (this also includes complimentary tea/coffee).
For further information and to make a booking please E-mail info@knockaloe.im
Address:
The Centre for WW1 Internment, Patrick Old School Rooms, Patrick Corner, Patrick Village, Isle of Man, IM5 3AL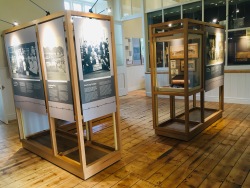 Getting there:
The Centre for WW1 Internment is located in on the junction of the A27 and Patrick Road in Patrick Village on the west of the Island. From Peel follow signs to Glen Maye (A27), from St Johns follow signs to Castletown (A3) then signs to Patrick/Glen Maye (A30). For the location on Google Maps please click here
There is a car park directly in front of the Visitor Centre, however, please be cautious as the entrance is quite tight.
The Centre for WW1 Internment
Linking the human stories and imagery with the camp location itself in an imaginative and interactive way to engage
visitors of all ages. After eight years of incredibly hard work, the Visitor Centre finally opened on 10 May 2019 and helps visitors to visualise the camp, understand what life would have been like within the camp and the village, and understand its impact on the internees and their families, the guards, the villagers, and the Island, as well as providing descendants with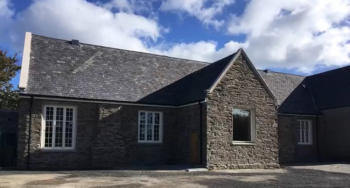 assistance in finding out more about their own internee, guard or village family member and add their story to our archive for future generations.
Incredibly the centre was destined to remain closed in 2020 with the Island's borders shut as a result of the COVID-19 Pandemic, those borders anticipated to remain closed for some of 2021, however we reopened anew in 2022 with many more exhibits and developments and had a great year. We shall now look forward to welcoming you all again for our 2023 season.
This has been the culmination of so much work and we are delighted when we were finally able to commence work on the site back in 2017. The construction work by The Village Workshop team (pictured on the video below) involved taking down the crumbling, damp kitchen, toilet and boilerhouse extension at the back of Patrick Old School largely built on the old school wall, and replacing it with a light and bright extension housing the Schoolrooms' Garden room, toilets and kitchen. Every stone from the old school wall has been reclaimed and rebuilt as the outer wall of the new dry and draft proof extension.
https://www.facebook.com/knockaloeinternmentcampiom/videos/890656477760382/