A candlelit evening of music celebrating the Old Manx Christmas
Mon, 15 Jan 2018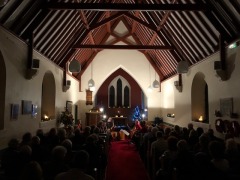 Once again our thanks go to the music group Hartes Ease for a beautiful evening of medieval and renaissance music celebrating the Old Manx Christmas.

Kiaull ny Nollick veg Knockaloe or Christmas Music at Knockaloe took place in the stunning, serene setting of Patrick Church which was candlelit on a calm winter's evening. Hartes Ease play acoustic instruments including viols and recorders and performed a programme which perfectly reflected the Christmas period as well as encompassing the history of Knockaloe, it's internees, guards and the Manx workers within the camp.

Interval refreshments of alcoholic and non alcoholic Glühwein were served made from Mull Syrup from Staarvey Farm's traditional family recipe.

We would like to thank everyone who supported this sell out event, the feedback has been so positive, the biggest thanks of all goes to Hartes Ease for their continued support of Knockaloe, they helped to raise a wonderful £832.30 which will help towards funding the renovation of the historic Patrick Old School to create the Knockaloe Visitors Centre.

Thank you so much to Hartes Ease and everyone who supported this magical event.