The Volunteer
Sun, 01 Nov 2015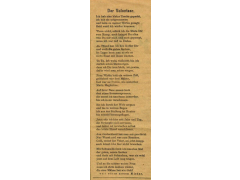 In an all-male world, the newspapers also talked of the women left behind.
"The Volunteer"
From Issue 5 of the Lager Zeitung newspaper dated 1 March 1917

"A little case I packed
And took it with me then
And I said to my landlady
That I soon would come again.
'Otherwise, I'll send the rent
From the field. And you will get
All you lent me, in the days
When I was deep in debt.
'As a guarantee I'll leave the case
And all the good stuff too
In the camp, in any case,
There's little one can do.
'Ta-ta, farewell, you never know,
I might be back tomorrow
I'll certainly be true to you,
They won't give me the option.'
My landlady is white as snow
And golden blonde her mane
And virtuous almost was she too
As, later, was the Magdalene.
Upon her nose there perched
Sweet summer freckles three
Which drew my gaze for evermore
Quite consuming me.
Banishing all thought
Of what the world's about,
And from my little office job
I just went flying out.
So here I've sat for a year and a day
My stockings worn to threads,
And in the meantime, sad to say,
My very last shirt's in shreds.
From Germany, they've sent me
Sausage and smokes, that's all
My father says that money's tight
And no use to me here, after all.
I reflect sadly now and then
On my fine things, still unworn,
And shudder when I speculate
Whose body they now adorn.
And of her, the lady white and fair,
Of her, I think always;
The lady who has a mane of gold
And a new lodger, too, these days!"
And yet there were some unlikely females within the camp – here the description of stubble pushing through the grease paint of a "mademoiselle", a female impersonator, and a few other thoughts about missing the fairer sex.
With their wide circulation, copies of Knockaloe and other internment camp newspapers can be found in private collections, archives and libraries around the world. The Copies above were obtained as follows:
• Issue 1 of the Lager - Zeitung newspaper dated October 1916, held within a private collection
• Issue 2 of the Lager - Zeitung newspaper dated 18 November 1916, held within the American Swarthmore College Peace Collection. Date accessed 2 March 2016 https://wwionline.org/resources/institutions/swarthmore-college-peace-collection/
• Issue 5 of the Lager - Zeitung newspaper dated 1 March 191718 November 1916, held within the American Swarthmore College Peace Collection. Date accessed 2 March 2016 https://wwionline.org/resources/institutions/swarthmore-college-peace-collection/