Acrostic
Thu, 03 Dec 2015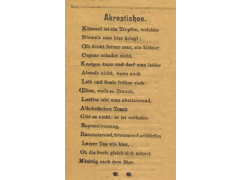 Whilst the sonnet above dealt with what they had too much of, this piece focused on what they didn't have…..alcohol.
The acrostic reads down "Knockaloe Lager IOM". (Ironically "Lager" is also the german word for a "Camp").
"Acrostic"
From Issue 2 of the Lager -Zeitung newspaper dated 18 November 1916,
K ümmel is a drop which, sadly,
N ever here we see
O ft, we wonder, would a shot of.
C ognac harmful be.
K lubs and bars we don't frequent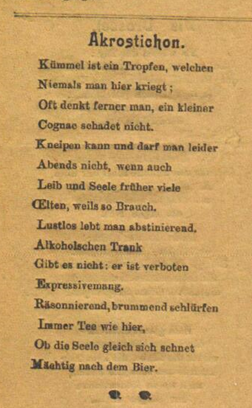 A s they are out of bounds,
L ots of us there are who spent
O nce upon our merry rounds,
E very night; off we went.
L istless, this life in abstinence,
A lcohol's banned in every form,
G rain and hop, forbidden all,
E xpressly prohibited.
R umbling, grumblingly we sip
I nterminable tea right here,
O ur souls consumed with longing
M ost mightily for beer."
With their wide circulation, copies of Knockaloe and other internment camp newspapers can be found in private collections, archives and libraries around the world. The Copies above were obtained as follows:
• Issue 1 of the Lager - Zeitung newspaper dated October 1916, held within a private collection
• Issue 2 of the Lager - Zeitung newspaper dated 18 November 1916, held within the American Swarthmore College Peace Collection. Date accessed 2 March 2016 https://wwionline.org/resources/institutions/swarthmore-college-peace-collection/
• Issue 5 of the Lager - Zeitung newspaper dated 1 March 191718 November 1916, held within the American Swarthmore College Peace Collection. Date accessed 2 March 2016 https://wwionline.org/resources/institutions/swarthmore-college-peace-collection/