Isle of Man Kipper
Sun, 03 Jan 2016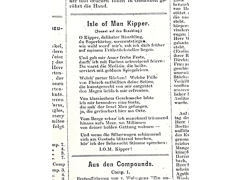 This sonnet was written by an internee of Knockaloe and included in its first edition of the Camp 4 Newspaper, Lager-Zeitung, dated October 1916, from a copy held within a private collection. Given the internees' familiarity with herring in their diet, like many of their articles and advertisements, this would appear to be rather tongue in cheek!
"Isle of Man Kipper
(Sonnet to the Kipper)
From Issue 1 of the Lager -Zeitung newspaper dated October 1916,
O Kipper, thou smoky delicacy,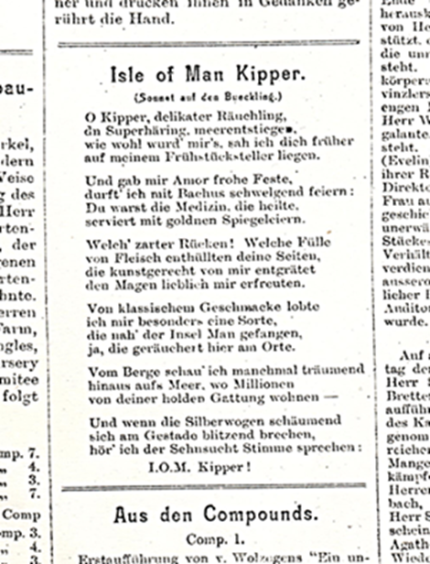 Thou super-herring, risen from the sea,
How great my joy, in days gone by,
When on my breakfast-plate I saw thee lie.
And when Cupid gave me happy celebrations
I could partake of Bacchus' revels:
You were my cure, my panacea,
Served with eggs, golden fried.
Such a tender back! What meaty fullness
Did thy sides reveal! Which, when filleted
By me with all due artfulness,
Did my stomach so delight!
In respect of classic taste,
One variety especially I would praise,
Caught in the seas off the Isle of Man
And smoked, indeed, in this very place.
From the mountainside, at times I gaze, dreaming,
Over the sea, where millions
Of your noble species dwell -
And when the sparkling silver waves
On the shore, foaming, break,
Then I hear the voice of longing speak :
I.O.M.KIPPER!"
With their wide circulation, copies of Knockaloe and other internment camp newspapers can be found in private collections, archives and libraries around the world. The Copies above were obtained as follows:
• Issue 1 of the Lager - Zeitung newspaper dated October 1916, held within a private collection
• Issue 2 of the Lager - Zeitung newspaper dated 18 November 1916, held within the American Swarthmore College Peace Collection. Date accessed 2 March 2016 https://wwionline.org/resources/institutions/swarthmore-college-peace-collection/
• Issue 5 of the Lager - Zeitung newspaper dated 1 March 191718 November 1916, held within the American Swarthmore College Peace Collection. Date accessed 2 March 2016 https://wwionline.org/resources/institutions/swarthmore-college-peace-collection/