Heinrich Gustav Erich Jacobs
German
Heinrich Gustav Erich Jacobs (Erich) was born on 9th November 1892 in Magdeburg-Sudenburg, to Gustav & Elisabeth Jacobs. His father became very wealthy and built a large public spa/hospital, "Königin-Luisen-Bad" in the centre of Magdeburg Altstadt in 1901. The family lived here in spacious accommodation. Erich had a younger sister called Käthe.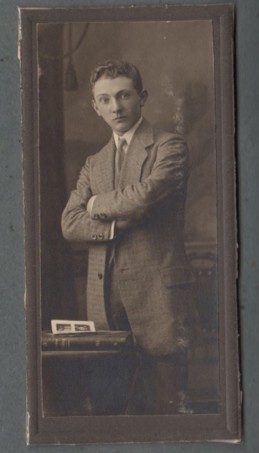 Erich was sent to England in about 1912 to learn about the hotel business. He worked as a chef at the great Hotel Cecil in the Strand. Here he met a good-looking young lady who served in one of the restaurants. He and Agnes fell in love. But this was not part of his father's plans!
One hundred years later, upon the discovery of relatives in Germany, Erich's grandson Ian Mercer called Käthe's grandson Bernd Wanner. When Bernd answered, he was very unsure of what Ian wanted from him, but quickly it became certain that they were family. Bernd said that shortly before she died, his grandmother told him that "Erich had had a baby in England". "Yes", Ian replied, "That baby was my mother." On the 100th anniversary of the outbreak of the Great War when Erich was taken off a German cruise ship captured in Falmouth Harbour, Bernd travelled to Cambridge to meet Ian and his cousin Diana, whose father, also Erich, was Erich Jacobs' and Agnes' second child.
From the moment of their parting at Agnes' hometown of Oakham early in 1914, Erich and Agnes were never to meet again.
Erich had been sent by his father to work on a cruise liner, and it was on its return journey from New York that it was impounded on the first day of the war. Erich was taken to a workhouse at St Columb Major in Cornwall and then, in January 1915 by boat to Cunningham's Camp at Douglas on the Isle of Man. The chilly winter in a bell-tent was followed by a move to Knockaloe, where he remained until repatriation in Magdeburg in 1919. Erich may not have known that he had a son as well as his daughter. Erich and Agnes had never married and following his repatriation, Erich's father found him a suitable wife in Germany, although they were not to have any children.
No-one in Ian's family knew anything of Erich's life in Germany post war, except perhaps Agnes – and she was saying nothing. Their daughter, Queenie Elisabeth, Ian's mother, had had to be put into an orphanage in Leicester when she was just seven and recalled how her mother didn't wave as she left her there - they were not to see each other again until Queenie was in her twenties. Queenie never got over the desolation she felt there. For many years all Ian knew was that his grandfather was German, from a spa in Magdeburg, by then in East Germany, and had been able to discover little more.
Ian's first real breakthrough was a few years ago at the Anglo-German Family History Society's show stand at Olympia: the name Erich Heinrich Gustav JACOBS was found! The result – "PoW No. 24500; release date: 22 FEB 1919 at Knockaloe, Isle of Man UK." Much later came a roller-coaster of help and information from ace researcher Corinna Meiss, and archives in Magdeburg and Hamburg. Corinna then discovered the Wanner family and three cousins together visited Knockaloe and its new Visitors Centre. With help, they were able to pinpoint the spot where Erich lived behind the wire at Camp I/4/4a.2, up the track and railway line from the entrance at Patrick. Ian describes his life there, his teaching work for a hotel management and bookkeeping course and the four letters home that survived from just before his release, and how Bernd handed over a small album of Erich's whole life-story in photographs together with those four precious letters. These few treasures will be safe in the Archive at Knockaloe, after more than 100 years, safe after Erich rescued them from the firestorm bombing of Magdeburg in 1945 and then, with the Russian invasion he fled to Berlin to see if his younger sister was alright, then somehow got to Hamburg where he lived until his death at the age of 80 in 1973. Queenie and her brother both died knowing nothing of all this, of their father and his life.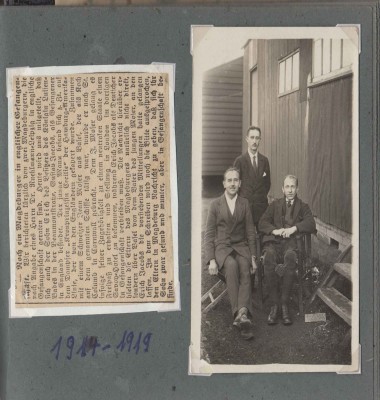 Now Ian has pieced together the whole amazing and eventful, bittersweet story in his book, "She Didn't Wave – a tale of love and war". Each person tells their own story. Ian's journey of discovery is chronicled, sewing together the surprising and sometimes shocking stories in a compelling account. The book is now available from http://www.knockaloe.im/product_575081.html
Written by Erich's Grandson, Ian Mercer. Photographs from Erich Jacobs' album.